Big Sister Scheme
The Big Sister Scheme is a developmental programme held by the Counselling & Guidance Committee.
AIM
To assist F.4 students in developing their leadership potential, and care for others.

To help F.1 to F.4 students enhance their self-esteem.
OBJECTIVE
F.1 students are welcome to participate in the scheme voluntarily. The expected number of participants is about 100
STRUCTURE OF SCHEME

3 Counselling Teachers + 1 Social Worker

¡õ
34 F.4 Big Sisters
¡õ

Each Big Sister takes 3 F.1 girls
¡@
TRAINING
(1) A Big Sister training camp is conducted in mid July.
(2) A 3-day training course is given to Big Sisters at the end of September.
(3) All Big Sisters have meetings with Counselling Teachers on the last Wednesday of each month to discuss and evaluate their work.
¡@
| | |
| --- | --- |
| ACTIVITIES | The Big Sister meet F.1 girls 3 times a month. Activities include sharing of opinions, playing games, giving advice on studies and having lunch together. In addition, there are also some regular outdoor activities such as Sand Puddling and Games Day |
¡@
| | |
| --- | --- |
| RECRUITMENT | At the end of each school term, F.3 students who perform well academically and in conduct, and have leadership potential are invited to participate in the scheme. Having been recommended by their class teachers, they will become Big Sisters. |
¡@
Teachers-in-charge :
Mrs. C. Pow
Mrs. P.Y. Poon
Mrs. M. Tsang
Miss S. Lew
| | | |
| --- | --- | --- |
| Committee Members: | Chairman | - Lydia Poon (F.4Sc) |
| | Vice-chairman | - Polly Lam (F.4D) |
| | Secretary | - Amy Cheng (F.4A) |
| | Treasurer | - Mandy Leung (F.4Sc) |
| | General-affair | - Amy Kwan (F.4C) |
| | | - Emily Chan (F.3B) |
¡@
---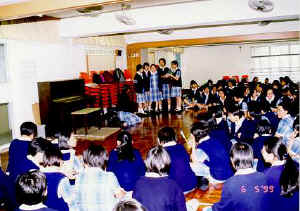 ¡@